On this page you can find more information about the conference location. General tourist information about Belgium and its major cities can be found in the Tourist Info section. Information about how to reach Antwerp and get around inside Antwerp can be found in the Travel Info and Getting Around sections.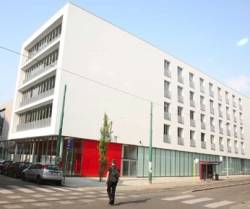 The conference takes place in Antwerp, Belgium. Antwerp is one of the major cities in Belgium, both economically and culturally. We have added a short description with the main city highlights in the Tourist section. Antwerp is well-known for its diamond industry. This is why we designed a diamond-encrusted ASE 2010 logo to celebrate the 25th anniversary. We are sure that you will enjoy the conference in this beautiful surroundings.
The ASE 2010 conference site is named "De Meerminne". This brand new building of the Universiteit Antwerpen is located right in the middle of the city centre. This makes it an extremely attractive location since it is within walking distance of shops, restaurants, pubs, historical buildings, and so much more!
The address of the conference center is:
De Meerminne
Universiteit Antwerpen
Sint-Jacobstraat 2
2000 Antwerpen
België
For your convenience we have indicated the most important locations on the ASE 2010 map.
The ASE conference organization will provide internet access to all conference participants.
The bandwidth of the network is limited. Please avoid heavy use (e.g., skype videoconferencing, youtube, heavy downloading) so that all participants can enjoy the network.
You will receive a personal login name and password at the registration desk. With this you will be able to access the wireless network of the University of Antwerp. Please consult the instructions in our "How to connect" document to know the correct settings for your devices.
Conference attendees from academic institutions participating in the eduroam initiative (EDUcation ROAMing) can also obtain eduroam access at the wireless Hotspots with the following configuration (more information):
SSID : eduroam

Auth methode: WPA

Encryption: TKIP
OR :
SSID : eduroam

Auth methode: WPA2

Encryption: AES
There is a separate location right above the main hall with tables and electricity plugs where conference participants can conveniently set-up their laptops.