| | |
| --- | --- |
| | |
| Page was last edited 07/15/2004 | |
Linz and Austria
Situated on the banks of the Danube, Linz has been the capital of the province of Upper Austria since 1490. It is the third largest city in Austria Linz (~200 000 inhabitants). Besides being known as an important business location Linz has a long tradition as an bishopric, which explains the high number of churches in the city (including St. Martin's: the oldest preserved functional church in Austria). The famous composer Anton Bruckner played regularly on the organ in the Old Cathedral, and the city fathers dedicated the Brucknerhaus concert hall to Upper Austria's most famous musical native son. The pastel tones of the Baroque and Rococo facades of the citizens' houses on Main Square and the carefully renovated old town provide striking contrasts to the city's modern industrial and commercial centres. More than 50 percent of the city is covered with parks and green spaces, and the bike path along the banks of the Danube, from Passau in Bavaria upstream down to Vienna, is a genuine attraction for cyclists.
http://www.linz.at www.tiscover.at Live Camera Interactive City Map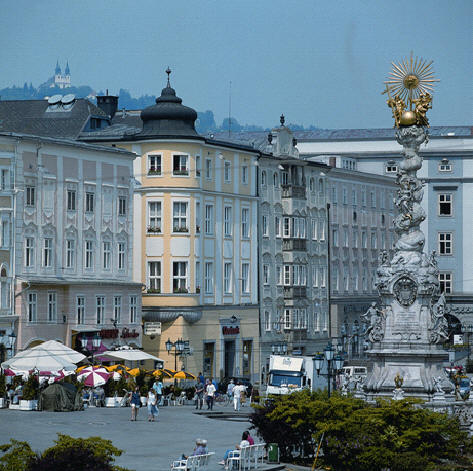 Culture is big in Linz. In September Linz hosts the annual Ars Electronica festival, an internationally recognized multimedia, video, computer art and technology event. In fall one of the highlights of the International Bruckner Festival is its famous Klangwolke ('cloud of sound'). This outdoor media event combines a Bruckner concert broadcast over gigantic loud speakers with high-tech light shows, videos on giant screens and fireworks. The performances at the Landestheater regularly receive critical acclaim, and lovers of fine art enjoy exhibitions in the Ursulinenhof. Avant-garde and alternative cultural events take place at the Posthof and range from reggae and experimental jazz to rock, folk and cabaret.

The region around Linz is full of recreational opportunities. More than seventy clean and clear lakes of the Salzkammergut region are a haven for anyone interested in water sports. Adventuresome individuals can hang-glide in Windischgarsten, explore caves in the Dachstein region, do white-water rafting on the Steyr River or climb Alpine peaks. The hinterland of Linz is filled with beautiful monasteries and churches, for example in St. Florian. The gentle, rolling landscape of the Mühlviertel region with its woods, fields, farms and orchards is ideal for extended bike tours. Vienna and Salzburg also close and can be reached in less than two hours by car or train. Prague can be reached in less than four hours.