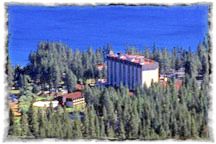 ASE-97 will be held on the northern shore of beautiful Lake Tahoe in the Sierra Nevada mountains. The Hyatt Regency Lake Tahoe is a resort hotel with its own beach and small in-house casino. The Hyatt is forty minutes by shuttle bus from Reno International Airport (Reno, Nevada), and is a five hour drive from San Francisco, California.
A room rate of $85 has been confirmed for our meeting. When making reservations, please identify yourself as part of the IEEE Computer Society meeting. The reservation cut-off date is Friday, October 17, 1997 at 5:00pm Pacific time. After that date, the conference rate is not guaranteed.
To guarantee an individual reservation, a guest must either (1) send a check or money order covering the first night's room rate plus applicable sales tax, or (2) send a signed letter or card number authorizing the Hotel to charge the room deposit and applicable sales tax to the guest's major credit card, or (3) give the guest's major credit card by telephone (1-800-233-1234). Guaranteed reservations are held until at least 6:00 a.m. the following morning, at which time the reservation and deposit are forfeited. The Society will not guarantee payment for no shows except for those reservations guaranteed to the master account. Should guests cancel a reservation, deposits will be refunded by the Hotel if notice is received seven (7) days prior to the arrival date. The Hotel will allow name changes without any penalty. All guaranteed reservations will receive either written or verbal confirmation from the Hotel.
The Hotel's check-in time is 3:00 p.m. Guests are permitted to check-in earlier subject to room availability. Hotel check-out time is 11:00 a.m.
Shuttle Information
A shuttle service is provide to the Hyatt by No Stress Express. The cost is $26 per person Monday through thursday and $15 per person Friday through Sunday. Reservations must be made at least 24 hours in advance. The number for reseravations is (702) 333-6955. They are located behind the Hertz counter in the baggage claim area. The shuttle schedule is as follows:

Airport to Hyatt: 45 minutes

From Reno Airport: 7:30am 10:05am 12:35pm  3:05pm  5:35pm  8:05pm 10:35pm 
To Hyatt:          8:15am 10:50am  1:20pm  3:50pm  6:20pm  8:50pm 11:20pm

Hyatt to Airport: 90 minutes due to extra stops before airport

From Hyatt:      6:00am  8:15am 10:50am  1:20pm  3:50pm  6:20pm  8:50pm
To Reno Airport: 7:15am  9:50am 12:20pm  2:50pm  5:20pm  7:50pm  10:20pm

The other transportation options are a taxi at $50, or van/limo services at $60 or $15/per person with a 4 person minimum.

---
Back to the ASE'97 Homepage
---
Maintained by John Penix (jpenix@ececs.uc.edu)